Best Hill Resorts in Darjeeling
The mighty and the trendy hill station in India nestling on the lower Himalayan Range of North Bengal have been a grapevine amongst the domestic as well as international tourists. Just not that it dwells a heathen culture but the breathtaking view of the Himalayan Range from the Mall Road gallery and the early morning panoramic sight of the snow bedded Kanchenjunga Peak and its family from an alluring height of the Tiger Hill are the popular attractions. Over the years the town has flourished with modern infrastructures but the landscape is still a paradise to all awaiting photographers to get hold of the early morning golden hue reflecting from the snow capped Kanchenjunga Peak. With gaining population, Darjeeling has also flanked with hotels and resorts down the meandering streets. From an array of hill resorts in Darjeeling, Goibibo have picked up the Best Hill Resorts in Darjeeling ranging from luxury to budget keeping in mind the taste of different travellers. One can even opt to online hotel booking offers to acquaint with the opulent ambience at an affordable rate.
From Goibibo's rucksack of hill resorts in Darjeeling, one can experience the bygone era at the Rhododendron Dell Exotic Resort. It is a 4 Star hill resorts in Darjeeling which is located close to Dalhi Monastery. It also offers an eye catching view of the Kanchenjunga family and the city of Darjeeling.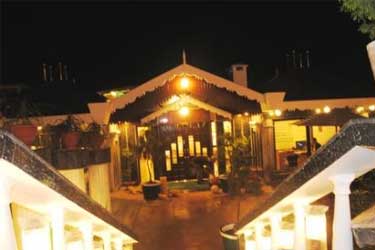 Located in a very posh locality of the Darjeeling town, the R.J. Resorts is another 4 Star resort which is cunningly nestled on the Mall Road. The resort offers 35 guest rooms and is an ideal retreat for both honeymooners and other leisure travellers.
One can easily find it affordable to stay at the Sterling Resorts by just clicking on our online hotel booking offers. This resort is quite close to the railway station and consists of 103 spacious and well-appointed rooms.
From the budget hill resorts in Darjeeling one can blindly prefer to nest himself at the Darjeeling Gymkhana Resort that offers a warm hospitality and serves a multi-cuisine restaurant that caters both Indian and Chinese cuisines. The Dekeling Resort is another amongst the budget hill Darjeeling resort which is a heritage property. It is an ideal retreat for honeymooners as well as vacationers and one can enjoy the enchanting view of the Kanchenjunga Range.
Kanchenjunga Peak from Tiger Hill, Darjeeling.
By
Swairik Das